Nuclear Medicine Calibration Standards 
Nuclear Medicine Calibration Standards
RadQual LLC is a wholly owned subsidiary of International Isotopes Inc. and has been providing high quality products to the nuclear medicine industry since 2001. We manufacture all of our products in Idaho Falls, Idaho, USA and are the only company manufacturing these products solely in the U.S. We have a dedicated team of employees with more than 150 years of manufacturing, distribution, quality and sales experience.
RadQual manufactures a complete line of calibration and reference standards for nuclear pharmacies and SPECT/PET imaging systems. RadQual, through our parent company International Isotopes Inc. (INIS), utilizes NIST Traceable Standard Reference Materials (SRMs) to ensure our measurements are traceable to NIST, and as a result, all calibrated RadQual products are accurate and traceable to NIST standards.
RadQual is also certified and fully compliant to the current editions of the ISO 9001 standard for quality management systems and 13485 standard for medical devices. Our staff is fully trained in current Good Manufacturing Practices as per United States Food and Drug Administration 21 CFR Part 820, and all applicable U.S. Department of Transportation requirements for shipping and handling of dangerous goods. With our excellent history of high quality manufacturing performance and products, we back up all of our sales with a lifetime warranty against manufacturing defects. You can be confident in RadQual.
RadQual has a successful record of developing innovative products that have proven valuable to the industry.
RadQual was the first to introduce the RadShield a new lighter weight shield material that provides equivalent shielding to the much bulkier and heavier transport cases. The RadShield enables the flood source to be more easily and safely transported from storage to other locations for use.
RadQual has developed and patented the new syringe style dose calibrator ("S-Vial"). The S-Vial reference standard allows daily calibration of ion chambers for both syringe and unit vial geometries. Providing a specific geometry of matching syringes improves the accuracy of daily quality control measurements.
RadQual developed and patented the first, and only, directly traceable NIST dose calibrator reference standard for measuring F-18 and Cu-64 using Ge-68/Ga-68 in our S-Vial configuration.
RadQual developed, designed, tested, and certified the RadLite Shipper, a new lightweight Type A shipping package for flood sources. This package reduces shipping costs not only for outgoing products but also significantly reduces customer costs on expended flood source return shipments. It's also reusable and recyclable, which makes sense for the environment.
The new patent pending Simulated Sodium Iodide – I-131 calibration standard. These source designs allow direct calibration of the dose calibrator I-131 channel using NIST traceable quantities of Ba-133 in specially designed configurations.
And our efforts continue for new product innovation. Our work today will enhance and improve nuclear imaging tomorrow. Our promise … Quality products, fair prices, superior customer service.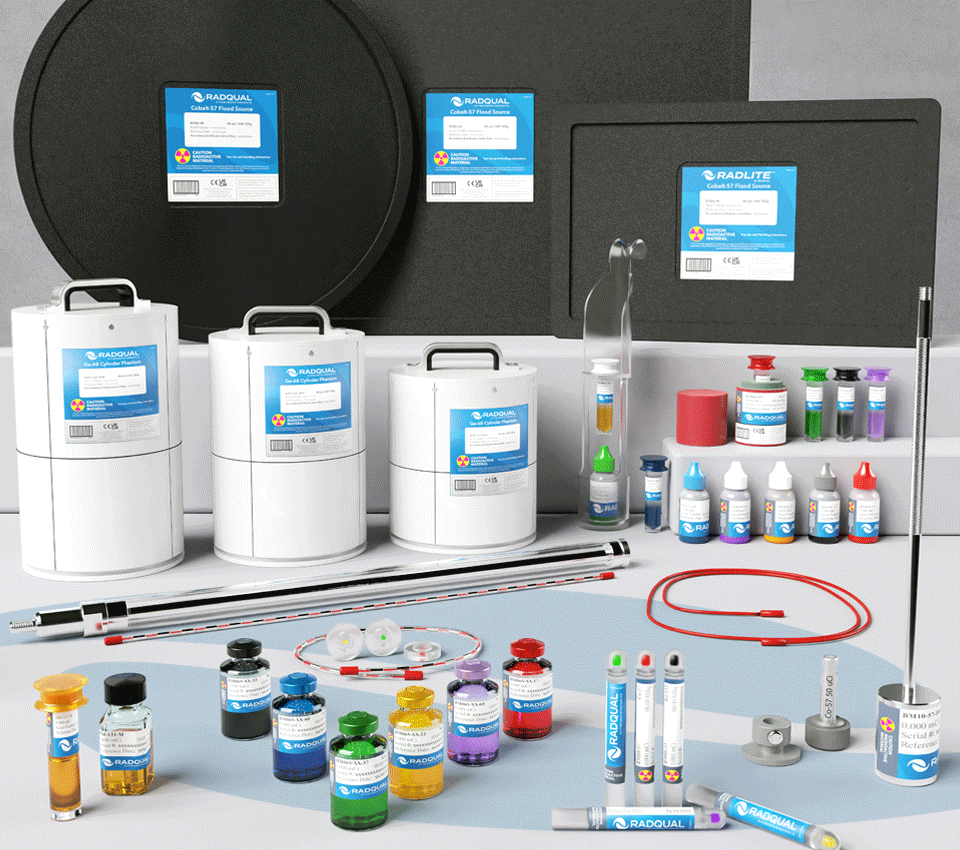 RadQual Orders/Questions
For ordering information or questions visit the RadQual website, use the form below or call us at 208.524.5300.